There is no shortage of alternatives when choosing the best places to eat biryani in Delhi, which is convenient considering that it is one of India's most well-known meals. For those who are passionate about biryani, Delhi offers a diverse selection of dining establishments, ranging from classic biryani homes to contemporary fusion eateries. Listing out restaurants serve some of the most delicious biryani in all of Delhi.
Best Places to Eat Biryani in Delhi
Biryani By Kilo:
Biryani By Kilo is a well-known restaurant franchise for serving real biryani that is both tasty and satisfying. They have a wide selection of biryanis, including lamb, chicken, and vegetarian options; each one is prepared using long-grain Basmati rice and a combination of spices that is kept a well-guarded secret. The authenticity of the meal is enhanced by the biryani being served in a clay pot traditionally used in Indian cooking. Because the servings are so substantial, this restaurant is an excellent choice for big parties or families.
2. Al-Jawahar:
This restaurant in Delhi named Al-Jawahar has specialized in providing biryani for over half a century. Despite its modest size, Al-Jawahar is largely considered among the best restaurants in Delhi for serving biryani. Their succulent and delicate chunks of mutton are combined with rice cooked to perfection to make their crowd-pleasing mutton biryani. The raita, a side dish consisting of yogurt blended with spices and vegetables, is served with the biryani and contributes to the overall taste of the meal.
Visit: healthy food restaurants in delhi
3. Karim's: 
In Delhi, a storied restaurant called Karim's is known for its flavorful biryani and has been doing so for more than a century. They provide a selection of biryanis, including chicken, mutton, and kebab biryanis, all of which are prepared with fresh ingredients and a unique combination of spices and are available for purchase. The restaurant has an antique, bygone ambiance, and the biryani is traditionally presented in the kind of clay pots used in India. Be aware that there may be a wait if you go to Karim's at the busiest times because the restaurant is quite popular.
"If Someone Says True Love Doesn't Exist, Make Them Taste Biryani."
4. Bihari Biryani Wala:
Bihari Biryani Wala is a modest eatery owned by a family and focuses on preparing biryani in the traditional Bihari way. The Bihari biryani is famous for having a flavor that is all it's own since it is prepared using a unique combination of spices. In addition, you may obtain vegetarian biryani, which is just as tasty as the other alternative. Those individuals who are interested in having a biryani experience that is more genuine and conventional might consider going to Bihari Biryani Wala.
5. Zafran:
The traditional biryani dish is presented with a fusion-style twist at the stylish and expensive eatery Zafran. They make a one-of-a-kind and delectable biryani that is unlike anything you have ever tasted by employing only the freshest ingredients and a mixture of Indian spices in its preparation. The fact that the biryani is served in a clay pot contributes to the overall atmosphere of the restaurant Zafran. Zafran is a wonderful choice for celebrating a special occasion or having a romantic meal together, as it has a sophisticated atmosphere and offers a unique spin on the traditional biryani dish.
Visit: advantages of fast food
6. Jama Masjid Food Street: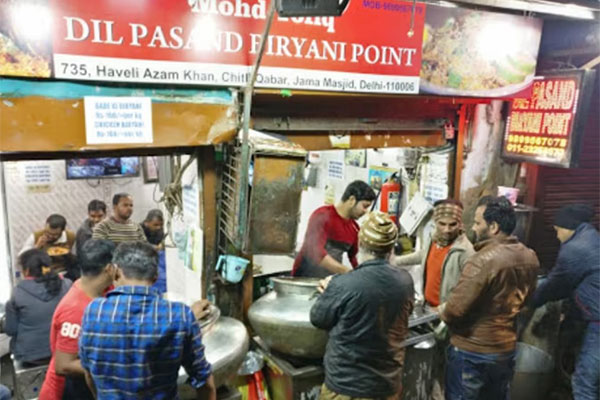 Old Delhi is home to several prominent street food markets, one on Jama Masjid Food Street. Here, visitors may purchase a variety of street foods, including biryani. The biryani served here is prepared with a mixture of different spices and is cooked in traditional pots that are rather big. After that, it is served on paper plates that can be thrown away, making it an excellent alternative for anyone searching for a fast and inexpensive biryani fix.
"Keep calm and add Dum to your Biryani"
6. Biryani Blues:
Biryani Blues is a well-known restaurant chain serving a wide range of biryanis, including classic, fusion, and vegetarian versions. The biryani is prepared with long-grain Basmati rice and a mixture of spices that are kept a secret, and it is served with raita and a hard-boiled egg. People seeking a contemporary and sophisticated take on the biryani experience will find that Biryani Blues is a fantastic alternative.
7. Qureshi's:
Traditional and operated by a family, Qureshi's is a restaurant that serves a selection of biryanis, including chicken, mutton, and kebab biryanis, among others. The spices used in the biryanis served here are kept a closely guarded secret, and the dishes are cooked in clay vessels typical of Indian cuisine. Those interested in having a more genuine experience with biryani can consider going to this restaurant because of its old-fashioned, charming atmosphere.
Visit: travel destinations for honeymoon couples
Parting Words
These are just a few of the places to eat biryani in Delhi. Everyone may find something to their liking in Delhi, whether it is a modern take on the classic biryani or something completely different. So round up your nearest and dearest, and get ready to go on a mouthwatering biryani-tasting adventure in the heart of the Indian nation's capital.
Keep visiting reallyinfluential for more interesting reads!