Money can't buy everything, right? But it can buy you a high-class comfy trip on the luxury airlines in the world. Below mentioned 10 luxurious airlines will blow you away with their radiant looks, cleanliness, hygiene, and comfort. Fasten your seat belts and get ready for a luxurious fly!
Top 10 Luxury Airlines in the World
1. Etihad Airways: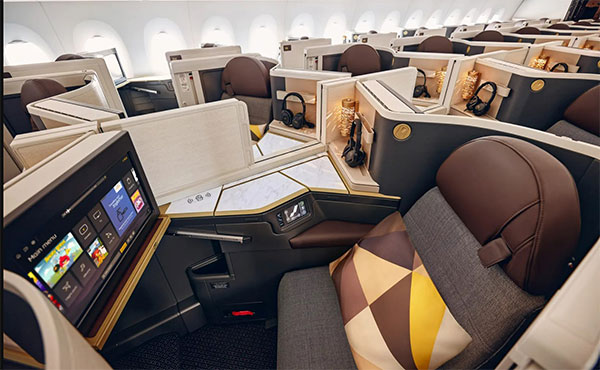 Etihad Airways has topped many lists and has won almost every travel award. They deliver luxurious facilities that are magnificent. In this top-class Airways, a passenger gets a service of everything he/she could wish for on a plane. You can imagine staying in a double-bedroom suite during your journey, well you can enjoy this in Etihad, and to top it off, you get a personal butler and a chef too. It's almost like staying in a luxurious hotel, but in the air around 35,000 ft (10,668 m) above sea level.
2. Singapore Airlines:
Have you ever thought wearing a pajama and bedroom slippers on an airline would give you a comfortable trip? Go for Singapore Airlines. You will be enjoying your cabin made by Jean-Jacques Coste, a renowned designer from France, and you get to sit on real leather on your seat. Could that be any more luxurious? You have a personal television screen and Wi-Fi for entertainment. The lighting in the cabins is a treat to the eyes of the guests. Besides, Singapore Airlines also has a collection of gourmet dishes for travelers to feast on. They also have improved fixed-back shell-designed seats for a comfortable journey.
Visit: affordable places to travel in india
3. Cathay Pacific:
Traveling on this airline feels like going out for a drink but in the air because they provide a bar inside the aircraft. Interiors are designed by Linda Leviton and Maria Lobo. This airline provides you with the most comfortable journey experience like nowhere else. The cabins are a touch of class. It is a Hong-Kong based aircraft that offers non-stop flights to Hong Kong as well as to other international destinations like Chicago, San Francisco, Los Angeles, and New York. It has also been awarded the title of the World's Best Airline at the World Airline Awards four consecutive times. With a track record of always being punctual, Cathay Pacific has also earned the reputation of serving the yummiest food onboard. They gave a great selection of fruits, cheese, and main courses. Luxurious indeed!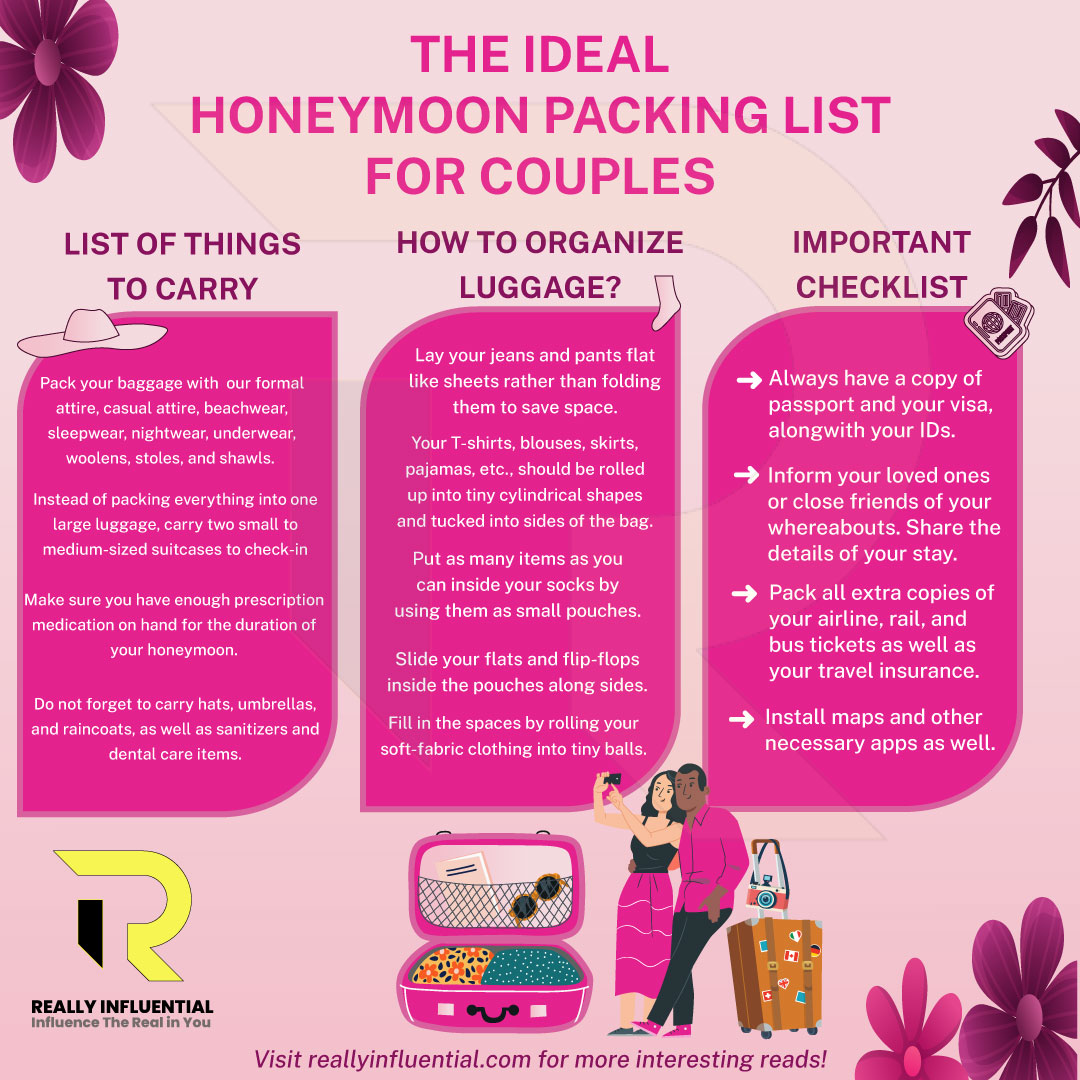 4. Emirates: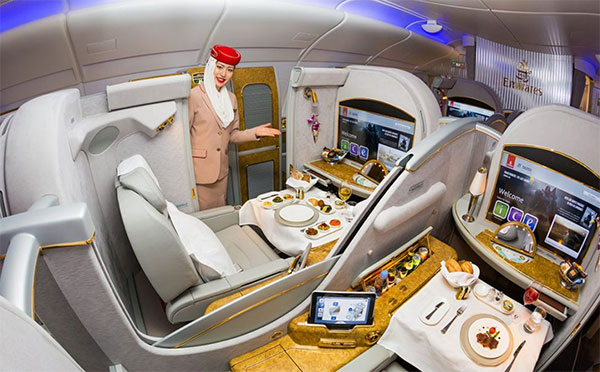 How about relaxing in a spa or chilling at a bar lounge while traveling by air? Royalty is in the blood of Emirates- making it also one of the most expensive airlines on the list. They serve with all royal comforts such as Royal Doulton fine China, Robert Welch Cutlery, and even Bulgari toiletries, they have it all. This Dubai-based airline offers complimentary alcoholic drinks. In short, you will enjoy and get all the necessary amenities in this aircraft and travel in the lap of luxury. Start saving money for this one, it is an expensive one, but worth the experience.
"Luxury must be comfortable, otherwise it is not luxury." – Coco Chanel
5. Qatar Airways: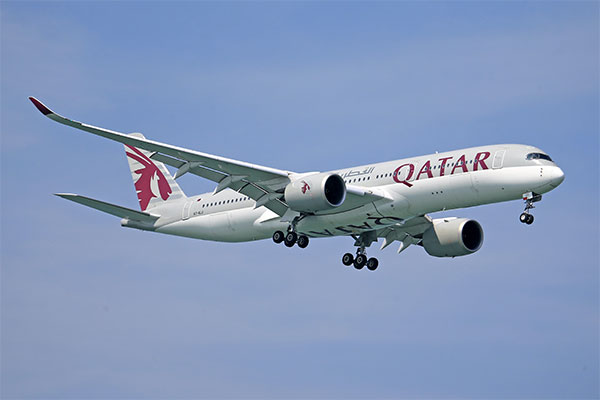 Qatar Airways is a top-rated airline of all times. It stays loyal to Middle Eastern hospitality standards. At welcome, you will be given an all-amenity kit. Isn't fancy to hear? Well, the kit consists of all Giorgio Armani products in it. Qatar Airways lounge is larger than 10 Olympic-size swimming pools. At present, this airline connects over 140 destinations across the globe.
Visit: marketing tips for travel agencies
6. British Airways:
Would you like to enjoy and relax with a facial and spa treatment when onboard? Well, from the land of Queen, hails British Airways. If that isn't enough, how about having a Brit-tea 40,000 ft (12,192 m) above the ground? You get traditions and class followed to the "T". This is undeniably, one of the best airlines in the world.
7. Korean Air: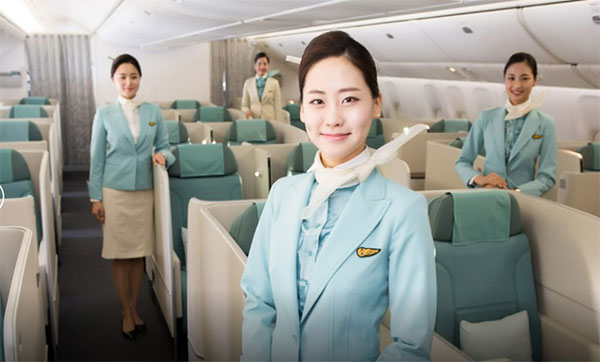 The largest aircraft, which carries over 555 passengers, has to be on this list. Korean Airlines is huge both in size and heart. You will be treated no less than a King while traveling with them. The food and attendants will not dishearten. And the first-class cabins are so spacious that they feel like home and provide the necessary comfort for a happy journey.
8. All Nippon Airways:
Japan's All Nippon Airways looks like a train cabin from the inside. A fancy train in the air. The All Nippon Airways has a boxlike structure that gives you both a designer appeal and privacy. In addition, you get to use your closet and international telephone. Connect with the world when you are in the sky.
Visit: solo travel destinations in india
9. Virgin Atlantic Airways:
How pampered does a wealthy feel when traveling in Virgin Atlantic Airways, do ask them. This airline was introduced in 1984 and has become the most popular airline that connects and caters to various countries around the globe. This California-based airline provides you with seats that turn into beds, dimmed lights, and a silent area to put you in a good sleep while onboard. Their motto is to provide quality service at an attractive fare. For entertainment, internet-enabled touch screens at every seat are in demand. What else do you need?
10. Hainan Airlines: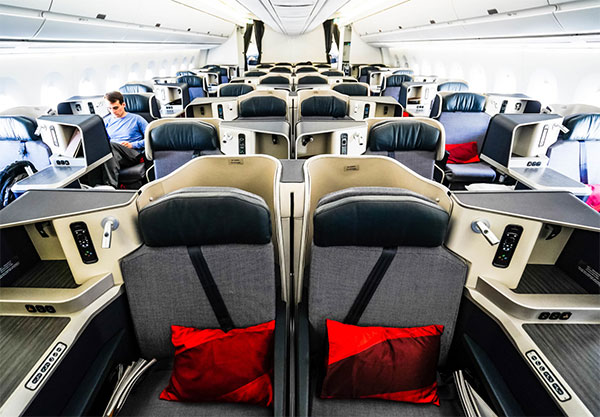 This airline takes you to another level of luxurious hospitality. It is the most popular airline known. When traveling with them be ready for yummy food, focused service, comfortable bedding, a clean and tidy cabin, and much more. The business class in this aircraft has been awarded the world's best, consecutively.
Visit: 5 biggest crimes in the world
It is quite difficult to pick luxury airlines in the world. There are many others in the competition in providing great service and comfortable journeys. At least once make sure to travel with any of these airlines just for the sake of the experience of luxury and class. So, start saving for your next luxurious flight, Bon Voyage!!!